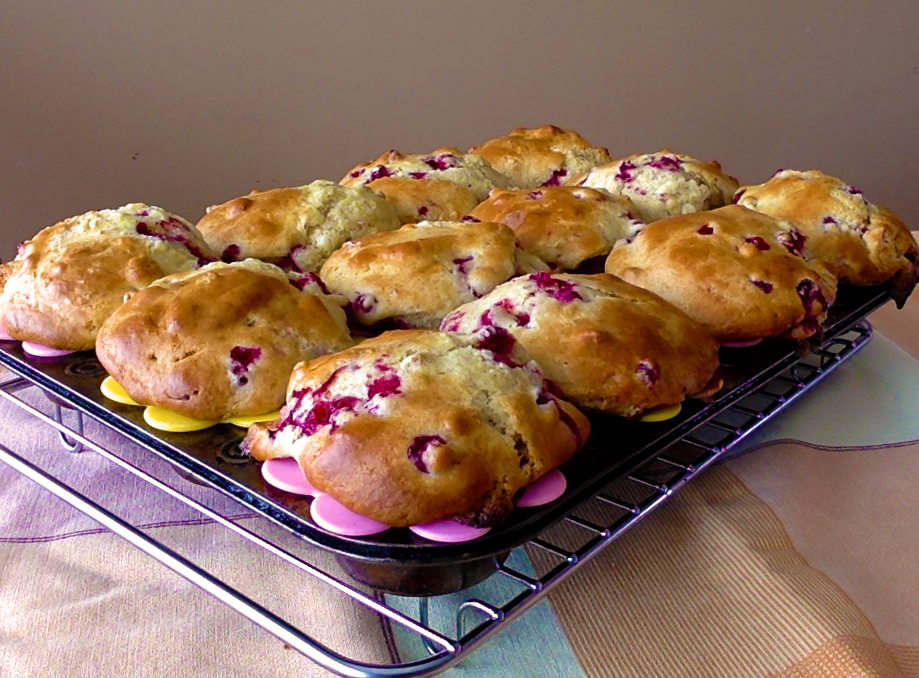 It is hard for me to imagine a better way to spend my day than breathing in the fall forest air while filling my bucket to the brim with partridgeberries. I have been berry picking since I was old enough to remember, and it remains one of my favourite activities. It is no wonder then that, over the years, I have created many recipes for the wild species of berries that grow in Newfoundland.
This recipe is one of my favourites. Not only is it delicious, but the pretty red berries in the muffins also make it a nice-looking treat to serve guests that pop over for tea. This recipe can be used to make 12 large muffins or 18 medium-sized muffins.
Ingredients:
2 ¼ cups all purpose flour
1 tsp. salt
2/3 cup white granulated sugar
1 tsp. baking powder
1 tsp. baking soda
Grated rind of 1 lemon
½ cup chopped white chocolate (or white chocolate chips)
½ cup chopped pecans or walnuts
Juice of 1 freshly squeezed lemon
1 cup milk (approx.)
2 large eggs, beaten lightly
½ cup plain unsweetened yogurt
½ cup cooking oil
1 tsp. vanilla
1 ½ cups partridgeberries.
Preparation:
1. Preheat your oven to 350℃.
2. Combine flour, salt, sugar, baking powder, baking soda and lemon rind in a mixing bowl.
3. Add the white chocolate and nuts
4. In a measuring cup combine the lemon juice and top up with milk until you reach a full cup of liquid.
5. In a large mixing bowl combine the lemon juice and milk mixture with the eggs, yogurt, cooking oil and vanilla.
6. Fold the dry ingredients (from step 2) into the wet ingredient mixture.
7. Gently fold the partridgeberries into the mixture.
8. Spoon the batter into muffin cups.
9. Bake at 350℃ for approx. 30 minutes.